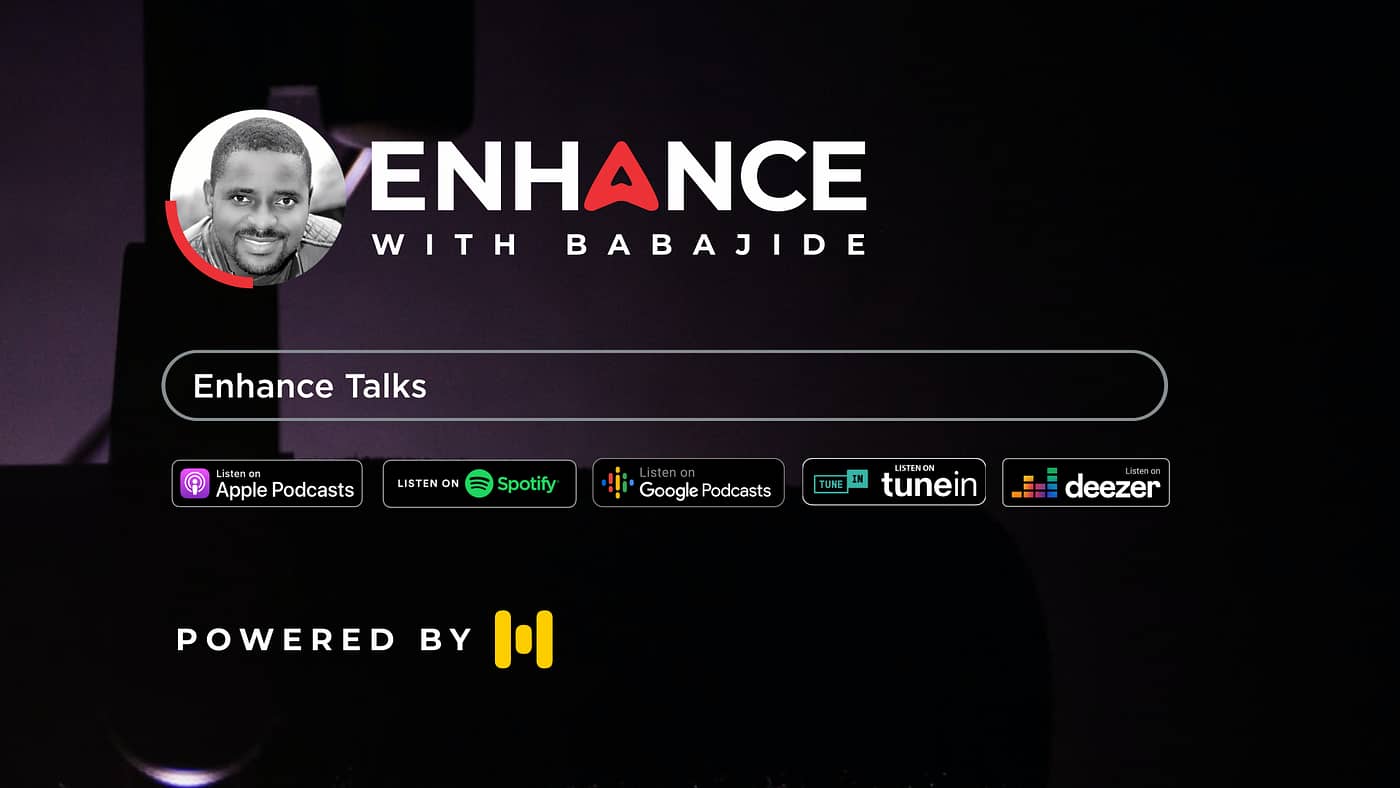 As technology continues to advance, more and more businesses are exploring ways to leverage it to improve their operations. One area that has seen a lot of growth recently is artificial intelligence (AI), which has opened up new possibilities for individuals and businesses to automate tasks and improve efficiency. One area where AI has particularly shown promise is in generating voice-overs for videos and other media. Over the past few weeks, I have been researching AI-generated voice-over apps, and I recently had the opportunity to try out murf.ai for a personal project podcast called Enhance Talks. Here's how it went.
First off, let me explain what Enhance Talks is. It is a podcast that empowers you to enhance your personal and professional life through insightful topics. Hosted by Babajide, each episode features engaging topics. I will be exploring various topics, such as leadership, design, mindfulness, personal growth, career development, and more. Each episode is designed to provide valuable insights and actionable tips that you can apply to your own life.
As I began my research into AI-generated voice-over apps, I quickly discovered that there were a lot of options out there. Some were free, some were paid, and each had its own set of features and capabilities. After reading a lot of reviews and trying out several different apps, I finally settled on murf.ai.
Murf.ai is an AI-powered voice-over app that uses deep learning algorithms to generate natural-sounding voice-overs in a matter of minutes. What drew me to murf.ai was its simplicity and ease of use. The app's clean, user-friendly interface made it easy to get started, and the wide range of voice actors available meant that I could find the perfect fit for my podcast.
To use murf.ai, I simply had to upload my podcast script, select a voice actor, and then let the app do its magic. As someone who has written many articles on design, leadership, productivity, branding and content marketing, I decided to use some of my previous articles as scripts for my podcast episodes. This made it easy to generate voice-overs that were informative and engaging, while also ensuring that I stayed true to my brand and message.
Another feature that I appreciated was murf.ai's ability to generate multiple voice-over options. This meant that I could choose from a range of different voice actors and tones, which allowed me to find the perfect fit for each episode of my podcast. Additionally, the app's easy-to-use editing tools made it simple to make any necessary tweaks or changes to the voice-over.
Overall, I was very impressed with the results that murf.ai was able to deliver. The voice-over was clear, engaging, and had a natural-sounding cadence. It was also very easy to edit, which was important since I needed to make a few changes to the script after the initial recording.
Hosting my AI voice-over generated podcast using RSS.com
I know how important it is to have a reliable and efficient hosting platform for my podcast. After conducting extensive research on the best podcast hosting platforms available, I decided to use RSS.com for my AI voice-over generated podcast, Enhance Talks.
RSS.com is a user-friendly hosting platform that makes it easy to upload and distribute podcast episodes. What drew me to RSS.com was its simplicity and affordable pricing. The platform offers a range of features, including unlimited storage, analytics, and a customizable website, all at an affordable price point. I got the first month FREE!
To use RSS.com, I simply had to create an account and then upload my podcast episodes that were created using murf.ai. The platform's intuitive interface made it easy to upload episodes and manage my podcast feed. Additionally, the platform automatically generates an RSS feed for my podcast, which makes it easy for listeners to subscribe to the show on their preferred podcast app.
At the moment Enhance Talks is automatically distributed to over five podcast directories. Like Amazon Music, Spotify, Samsung Podcast, Podcast Index, Listen to Notes, and the RSS.com community. 
One of the features that I appreciated most about RSS.com was its analytics dashboard. The platform provides detailed analytics on my podcast's performance, including the number of downloads and plays for each episode. This data has been incredibly helpful in understanding my audience and making data-driven decisions to improve my podcast.
Within three days, I have had over 66 downloads.
Since using RSS.com to host Enhance Talks, I have been impressed with the platform's reliability and performance. The platform offers unlimited storage, which means that I don't have to worry about running out of space or deleting old episodes. Additionally, RSS.com offers fast load times and a reliable CDN (Content Delivery Network), which ensures that my podcast episodes are available to listeners all around the world.
Follow & Listen
If you are interested in thought-provoking conversations on a range of topics that can help you improve your personal and professional life, then Enhance Talks is the podcast for you. The podcast in the coming weeks and months will feature interesting interviews with thought leaders, students, and professionals from various industries.
To make it easy for you to access Enhance Talks, the podcast is available on several major podcast platforms, including Apple Podcasts, Spotify, TuneIn, and Deezer.
In conclusion, the use of AI-generated voice-over technology is becoming more prevalent in the world of podcasting, and for good reason. It offers an efficient and cost-effective way to produce high-quality content that can engage listeners and attract new audiences. With the help of Murf.ai, podcast hosts and producers can focus more on creating great content than worrying about the technical aspects of production.
In addition to the use of AI-generated voice-overs, I also found that using RSS.com as my podcast hosting platform made it easy to distribute my podcast across multiple platforms, including Apple Podcasts, Spotify, TuneIn, and Deezer. This allowed me to reach a wider audience and grow my podcast's following.
Overall, creating my first podcast with AI-generated voice-over was a great success, and I look forward to using this technology and others like it to produce more engaging and high-quality content for Enhance Talks. As the podcasting industry continues to grow and evolve, the use of AI-generated voice-overs is sure to become even more prevalent, and I am excited to be a part of this exciting new development in podcast production.
Don't forget to follow and listen! Until next time, keep enhancing the way you think, work, and live.