Social media has become integrated into people's everyday lives, and as a result, increasingly more companies are turning to it as a marketing channel to reach more target audiences, expand their customer base and connect with various generations.
According to research by Global WebIndex, highlighted by digital marketing platform SmartInsights, "59% of the world's population uses social media. The average daily usage is 2 hours and 29 minutes (July 2022)". A wealth of new opportunities exist for employing social media in a variety of contexts, such as in the production of films, customer support, and social listening, followed by analysis to obtain insights and act on them.
In today's world of digital overstimulation, it is essential for businesses to differentiate themselves from the competition by staying on top of the latest trends in social media and marketing.
These are the trends to keep an eye on in 2023:
1. TikTok will become even more popular
UK consumer insights company GWI's latest social media report reveals that the impressive growth of TikTok is continuing. Since 2020, the number of monthly users has increased by 32%. Despite it seemingly aimed at the younger generation, baby boomers and Generation X are the user segments growing the most. Older users in general are playing a role in the continued growth of TikTok, and the appeal of this social media platform shows no sign of waning.
TikTok is useful for businesses that want to sell their products or services via short films, which are popular among the younger generation. The social media platform is currently expanding by offering tools for company profiles and advertisements.
2. The use of short-form videos will increase
GWI notes that short-form content is more popular than long-form across all age groups. While "bite-sized" films may have begun with TikTok, several social media platforms now provide this option. Reels have been around for a while, and their popularity is also growing. Since 2020, there has been a 20% rise among Instagram users. Short videos can be made quickly and have that less polished, more natural content that users like to see.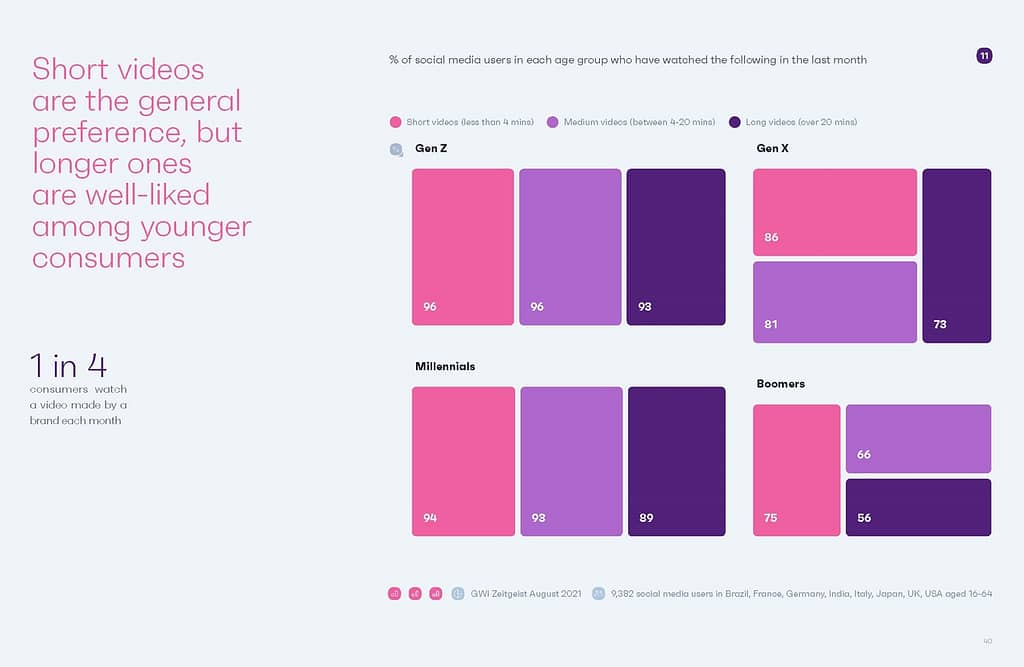 3. Focus on marketing in the metaverse
According to Meta Platforms CEO Mark Zuckerberg: "It is really the creators and developers who are going to build the metaverse and make this real".
70% of internet users have heard the word, but 53% don't know what it implies. Brands seeking a first-mover advantage can benefit from GWI's metaverse insights. The impact of the metaverse on content development and marketing also shouldn't be overlooked. Marketers however may need to come up with new ways to measure engagement that take into account the different behavioural economics at play.
4. The improved use of social media platforms
Some people want to reduce the amount of time they spend on social media, like Generation Z for instance, which is also using Instagram and Facebook less but is still on TikTok. The 16- to 24-year-olds are on social media platforms for around three hours each day. Businesses need to reach customers where they are to ensure the greatest impact of their sales and marketing efforts and increasing their investment in this space is worthwhile.
Connecting remains at the heart of social media and businesses adapting their social media strategies to harness the latest trends, like social listening and short videos, will be able to stand out from the competition. They will also encourage users to stay online for longer durations and boost engagement with their brands.
Babajide Olowookere is the Design Lead with Big Ambitions, a leading content marketing company in South Africa.